Har Zion Hero
What is a Har Zion Hero?

We are pleased to offer a new feature in our weekly emails: a Har Zion hero! This could be any congregant who has done something special for the community or another member, before or during the pandemic. Please email the office with your ideas so we can give that thoughtful person a "yasher koach."
October 16, 2020 — Our Har Zion Heroes of the week are ...
the Mizmor L'David Davening Team -
David Lewin, David Oromaner, Leila Cleofe!
Thank you to our wonderful Mizmor L'David Davening Team for their continued hard work! Over the past several years, they have worked together innovating our Friday night services by bringing in new melodies, vocals & instruments. In the past few months this professional congregrant team has played a spectacular role spending hours working with the Rabbi Glick and Cantor Figa to record videos that enlivened our High Holy Day Services. Talented, enthusiastic and generous as they are as individuals, their combined efforts make them unstoppable as a team!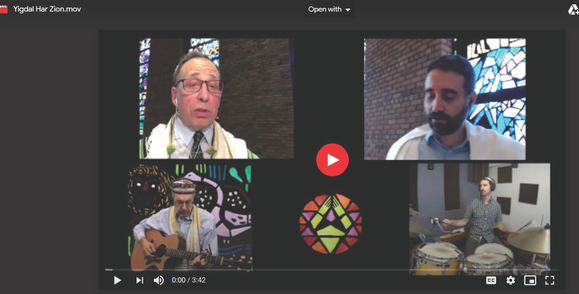 Join us in saying Yasher Koach to the David Lewin, David Oromaner & Leila Cleofe!
October 9, 2020 — Our Har Zion Hero of the week is ...
Charles Shapera!
With Simchat Torah's appearance, it is the perfect time to recognize our amazing Torah reader, Charles Shapera!
For over 20 years, Charles has been a staple of our community, chanting the Torah and Haftorah at services. While this is no small task, Charles also teaches in our religious school, and supports our community in numerous ways. His warm and outgoing personality is always a welcome sight!
Join us in saying Yasher Koach to Charles!
---
---
---
October 2, 2020 — Our Har Zion Heroes of the week are ...
Michael and Sue May Wilde
Our Har Zion heroes this week are Michael and Sue May Wilde!
The Wilde family have been members of the Har Zion community for over 30 years! They have volunteered their time again and again, in a wide variety of roles! Currently Sue May is serving on the Board of Directors and is chairing the Kulanu (Caring) Committee. For many years Mike has been heading up efforts during the holidays with his capable skills in Sukkah building. Both helping the congregation annually, reminding us of how well this congregation works because of families like the Wildes.
Join us in saying Yasher Koach!
---
---
---
September 25, 2020 — Our Har Zion Hero of the week is ...
YOU!
Needless to say, 5780 has not been an easy year for any of us. However, thanks to the Har Zion community, our shul has thrived!
Our virtual programming has been very successful, allowing many people to experience our services for the first time in years and some to participate for the first time ever!
Our board members, ushers & staff have all put in the extra hours to make everything from morning Minyan to Rosh Hashanah warm and welcoming.
The work of the community and for the community has grown but so has our connections with and for each other. While there is still a lot of uncertainty regarding 5781, this past year has shown how our congregation can weather the storm—coming together.
Yasher Koach and G'mar Chatimah Tovah!
---
---
---
September 11, 2020
LAUREL SALTZMAN
Our Har Zion hero is...
Laurel Saltzman

Laurel has made the Har Zion community stronger and more beautiful for years now, serving as both Vice President of Building and Administration and as President. She has volunteered many hours and has sat through many meetings. Laurel oversaw several large accomplishments, including a revitalized preschool, a reworking of our bylaws, and the endowment of several of our staff positions. While she has taken a well deserved break from temple leadership, she has been spearheading a renovation project of the front foyer with dedicated partners in planning. Soon you will be able to see exquisite tapestries depicting the story of the giving of the Ten Commandments at Sinai.
Join us in saying Yasher Koach!
---
---
---
September 4, 2020
IRENE GOREN
Our Har Zion hero of the week is ...
Irene Goren

Irene and her family have been members of the Har Zion community since 1954. Irene is a mother of 3, grandmother of 6, and great grandmother of 1 (with another on the way). Later in life, after her kids were grown, she went back to school and received her undergraduate and graduate degrees at Spertus, honored as class valedictorian!
Later this week, Irene will turn 100 years young!


Join us in saying
Yasher Koach for enriching our community
and Mazel Tov for your strength, Irene!
---
---
---
August 28, 2020
SADIE RUMAN

Sadie's Bat Mitzvah is on August 29, 2030
So, of course, Sadie is our Har Zion hero this week!
Sadie's Bat Mitzvah project was to volunteer at the Oak Park River Forest Food Pantry and collect food for the hungry. Despite COVID-19 changing things, she has continued to collect and donate food for the hungry. Sadie also began collecting hockey equipment for a girl's sport program that gives girls a chance to play hockey. Once restrictions are lifted, she hopes to volunteer for these deserving non profits.


Join us in saying Yasher Koach to Sadie.
---
---
---
August 14, 2020
ALANA SLADE


Alana has been volunteering for years at the temple for years. Most recently she helped Phyllis Rubin with recycling plastic bags and sewing them into mats that are used by our preschool. For years she has been helping to prepare meals for the homeless through Housing Forward (ask her bubbe, Anita Friedman). When needed she will step into the office to lend a helping hand (or a finger if a buzz is needed). Notably, when the current pandemic dramatically shifted her Bat Mitzvah plans, she showed incredible grace and maturity and set a postive tone for all of us.
Mostly, she is our hero for demonstrating, again and again, the Jewish values of Tikkun Olam & Gemilut Hasidim.
Join us in saying Yasher Koach!
---
---
---
August 7, 2020
ED SACHS
Ed has volunteered at every level of congregation, serving multiple positions on the Board of Directors (including president). He continues to play a critical role helping the Har Zion community, including serving as the Gabbai every Shabbat. In this very challenging time Ed has also made sensitive phone calls to alert folks of upcoming yahrzeits, proofed many of the increased communications that get sent each week, and served on the building reopening committee. Whenever and wherever a need comes up in our community, Ed will do whatever he can to help with care and kindness.
Ed, and his partner, Judy set an incredible example of generosity and engagement to family, friends and our community.
Note Ed and his grandson, Noah's proud smiles in the photo, happier perhaps due to Ed's tie being imprinted with Noah's image as a baby. Ed coached grandsons, Noah and Joshua Harter for their bar mitzvahs.
Join us in saying Yasher Koach!
---
---
---
July 31, 2020
Zeevie Drizin and Ruth Zuraw were the valedictorians at OPRF High School this year. They have been active members at Temple Har Zion, coming to Hebrew School for many years and contributing to class discussions at Hebrew High School. During their time at THZ, they showed their dedication to Jewish values of learning, community, and social justice.

Zeevie was also a madricha with Mrs. Crooks' class for the last four years. As of May, Zeevie was planning on going to Indiana University next year, while Ruth was planning on spending part of the coming year in Israel.
We are very proud of both of them!
What naches! Yashar Koach Ruth and Zeevie!
---
---
---
July 24, 2020
Our Har Zion hero this week is Leila Cleofe. Leila has been an outstanding regular contributing artist for our Musical Kabbalat Shabbat services. Beyond that, Leila is a middle school teacher, and gives back to the whole community with a multitude of contributions.

This past year, she started a wrestling program within her school district, open for both boys and girls. Leila has been a regular at both our Tot Shabbat services and our JBaby Hebrew immersion class. You can often find her at these temple programs with her husband, Kevin and daughter, Mabel.


Please join us in saying Yasher Koach to Leila!
Har Zion Hero, July 17, 2020
This week's Har Zion hero is Carol Steinfeld. Many know Carol, as her family has been members of our community for many years. What you may not know is the hard work she puts in behind the scenes. She has taken a range of projects during her time as a member; for example, for years she initiated new members into our community with sweet welcome baskets. Carol goes out of her way to make folks feel warmly welcomed into the congregation.
Her current passion project is the Har Zion Honey Fundraiser, which is raising money for Housing Forward (and ORT).
Please join us in saying Yasher Koach to Carol!
---
---
---
Har Zion Hero, July 10, 2020
This week's Har Zion hero is Shirley Lieb. Shirley and her husband David are both longtime members and supporters of Temple Har Zion. She serves on the Board of Directors, and started a mask making project within our community. This included her spending many hours sewing masks to distribute to neighboring communities of need. Community members like Shirley are an invaluable resource for the temple, helping in many ways both within our congregation and the surrounding community.

Join us in saying Yasher Koach to Shirley Lieb.
Har Zion Hero, July 3, 2020
Fran has given countless hours to the synagogue stocking, supporting and working in the Phyllis Baren Gift Shop. The shop would not be the same without her! Being in the Western Suburbs, it can be very difficult to obtain Judaica items, like Shabbat/Havdallah candles, a mezuzzah, tallit, etc. The shop provides an invaluable service to our community, and that service would not be possible without Fran's dedicated and professional work.

Join us in saying Yasher Koach to Fran.
---
---
---
Har Zion Hero, June 26, 2020
PHYLLIS RUBIN
Phyllis Rubin has been an active volunteer at Temple Har Zion for many years. Currently she is the chair of the Social Action Committee; her spirit for social change impassions her and our community daily. Phyllis is also the guiding force for the temple garden, which provides a source of fresh vegetables for the preschool and for donation to Beyond Hunger (formerly the Oak Park River Forest Food Pantry). She does everything for the garden, from buying supplies to—quite literally—getting her hands dirty.

This Shabbat, June 27, we will combine our National Refugee Shabbat and World Refugee Day. More of the work of Phyllis - putting together a special shabbat to honor all refugees and asylum seekers hoping for a better life!


Join us in saying Yasher Koach to Phyllis.
---
---
---
Har Zion Hero, June 12, 2020
JAY MICHAELS
Jay has been tirelessly volunteering at the temple in a variety of ways, everything from making sure the building is holding together to making tasty tuna salad for our kiddushes. Recently, Jay has been working with Carol Flank and others on a project to clear out space in the basement, garage and stage of the temple. >Not all superheros wear capes, but it's very convenient that when we do need to turn on the Jay signal, that his batcave is nearby!
Yasher Koach to Jay!
---
---
---
Har Zion Hero, June 5, 2020
PETER NORLANDER
On Sunday, Peter did an excellent job moderating the virtual lecture with Professor David Harris. Over the past year, Pete has spearheaded some of our most successful and interesting events such as the pet shabbat, introducing our Gropper windows to the wider public through Chicago open house weekend, helping the Rabbi with the award winning Golden Kippah program, and the Hershel and the Hannukah Goblins children's play.
Peter, with the assistance of his family, Monica and Alana, is a Har Zion hero.
Yasher Koach to Peter!
---
---
---
Har Zion Hero, May 29, 2020
JUDY GROBE SACHS

Judy was nominated for her amazing devotion and years of professional "volunteer" work for the temple, spending countless hours drafting and publishing the Herald, as well as adding her artistry and helping hands (and head) to temple communications efforts from flyers to our website.


From all of us at Har Zion,
Todah Rabah Judy!
---
---
---
Har Zion Hero, May 22, 2020
CAROL FLANK


Carol Flank was nominated for her years of volunteer work for the temple, doing everything for everyone!

Currently, Carol has been leading the effort to organize and clean the choir loft. She also made made a surprise drop off of B'nai Mitzvah gifts to those who celebrated recently.


From all of us at Har Zion,
Todah Rabah Carol!
---
---
---
Thu, October 29 2020
11 Cheshvan 5781
Thu, October 29 2020 11 Cheshvan 5781